Qunut Nazilah
قنوت نازيله
recited by
Mufti Musa Menk from Zimbabwe
The MP3 can be downloaded from here
The PDF format can be dowloaded from here
Qunoot - e - Naazilah
Du'aa for protection against Natural Disaster, Plague and War.
When the Muslims Community is afflicted with some hardship then Qunoot-E-Naazilah should be recited in the Fajr Salaat.
Method:
After the Rukoo of the second raka'at, while standing in the position known as Qaumah, the Qunoot should be read in a voice lower in tone than when reciting the Qiraa'at. The Muqtadees should place their hands at the side and say Aameen at the proper juncture.
Note: Women may also recite this du'aa softly.
One may recite it as often as possible as a du'aa.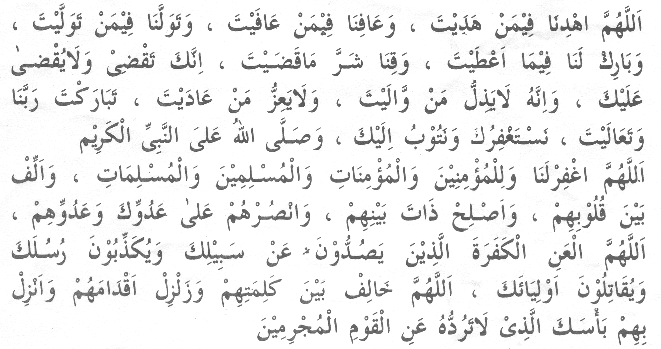 O, Allah, guide us aright along with those who have been rightly guided and grant us safety along with those that have been granted safety and support us along with those that have been supported and add Your Blessings to what You have given us and save us from the harmful effects of what You have ordained ( i.e. lest I should be wanting in cheerfully submitting to your Decrees) as You alone disposes and no one can dispose against You. Anyone who is under Your Protection cannot be lowered and anyone who is opposed by You cannot gain dignity; our Lord; You are full of blessings and Most High, we beg forgiveness from You and repent before You and may the blessings of Allah be showered on the Holy Prophet (sallallahu alayhi wasallam). O Allah, forgive us and the believing men and women and Muslim men and women, unite their hearts with mutual love, set right their mutual affairs and help them against theirs and Your enemy. O Allah, let Your curse be on those unbelievers who prevent people from treading Your path, who reject Your prophets and fight Your chosen ones. O Allah, make difficult their plans, shake their feet and give them such punishment which is not turned away from a sinning people.

Aameen
islaam.org
DOA QUNUT NAZILAH
Bacaan Qunut merujuk kepada doa yang dibaca di dalam solat pada tempat yang khusus sewaktu berdiri.
Qunut nazilah
merupakan salah satu daripada tiga jenis qunut yang sunat dibaca dalam solat mengikut mazhab syafie selain qunut dalam solat subuh dan qunut pada separuh malam kedua terakhir dalam solat witir di bulan Ramadhan.
Qunut nazilah sunat
dibacakan ketika umat Islam didatangi bala bencana atau ditimpa musibah seperti ketakutan, ditimpa wabak, diserang belalang dan sebagainya. Qunut ini tidak dibacakan jika umat Islam tidak didatangi dengan cubaan-cubaan seperti ini.
Bacaan Qunut Nazilah di zaman Rasulullah sallallahu`alaihi wasallam
Qunut ini pernah dibacakan oleh Rasulullah ketika kejadian pembunuhan beramai-ramai 60 orang penghafaz al-Quran selama sebulan berdasarkan hadis berikut:
Maksudnya:
Sesungguhnya Nabi sallallahu`alaihiwasallam telah membaca doa qunut pada waktu selain dari Subuh ketika turunnya sewaktu pembunuhan sahabatsahabatnya penghafaz-penghafaz al-Quran.
-Diriwayatkan oleh Bukhari dan Muslim
Tatacara Bacaan Qunut Nazilah
1. Qunut ini boleh dibacakan pada tiap-tiap sembahyang fardhu jika kedatangan bala
Sila ikuti selanjut di
masjidwilayah.gov.my
Lain - lain Rujukan / Other Reference
Diceritakan kepada kami Asim berkata, aku bertanya pada Anas bin Malik tentang qunut, lalu dia berkata sememangnya qunut itu ada. Aku berkata samada sebelum rukuk atau selepasnya, Anas berkata selepas rukuk. Aku berkata lagi, sesungguhnya seseorang telah mengkhabarkan kepadaku bahawa engkau memberitahunya sebelum rukuk. Anas berkata dia berdusta, sesungguhnya Rasulullah S.A.W membaca qunut selepas rukuk selama sebulan dan diperlihatkannya ketika mengutus satu kaum yang dikatakan mereka itu baik bacaannya seramai 70 orang kepada kaum musyrikin yang telah melakukan perjanjian dengan Rasulullah S.A.W.
wikipedia.org/wiki/Qunut_Nazilah
Qunut Nazilah:
What it is not!
Qunut Nazilah is different to Dua (Qunut) which is recited in
Wit'r Salah
daily.
Why? In his noble lifetime Sayyidina Rasul-ullah (Sallaho Alaihe Wassallam) offered supplication (du'aa') at times of calamity on a number of occasions in the time of extreme distress and need thus beseeching Allah (SWT) for His Mercy and benevolence. Sayyidina Rasul-ullah (Sallaho Alaihe Wassallam) made the following Qunut Nazilah for the salvation of the weak and oppressed in Makkah:
central-mosque.com